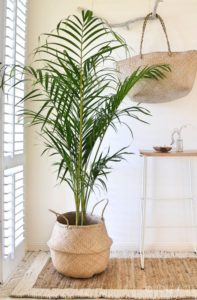 A lot of 'behind the scenes' work goes into getting a home ready to Sell, and in addition to pricing the home appropriately + marketing, a big portion of my focus is making sure the photos are just right. If the photos are terrible, Buyers are going to skip your house and move on to the next. With all of my listings, I make sure the photos feature your home in it's best light, driving interest up and days on market down.
One of my favorite ways to stage a home for photos, is to add plants. Plants are the 'little black dress' of the home decor world. They go with everything. The pop of green brings life + freshness to every room, all while bringing major style, for a very low price. Instantly your house will feel like it's got that designer touch, that will have everyone green with envy. Real..Tor Tip: Opt for a fun planter, or a basket for added texture, to coordinate with pillows, blankets or furniture. You can shop the links below, or better yet – Call Me + I'll do all the work for you!
Whether you are thinking of Buying or Selling, I am here as your Real Estate Resource.
Available to you, anytime.
Emily Wertz
Cell: 507-398-2555
Email: EmilyAWertz@gmail.com
[ngg src="galleries" display="basic_thumbnail" images_per_page="25″ number_of_columns="3″]
1. Brass Planter Set of 2 $49.95 // 2. Natural Craft Seagrass Basket $17.88 // 3. Large Macrame Seagrass Bianca Tote $39.99 // 4. Fiddle Leaf Fig (real) $29.97 // 5. Foldable Flower Basket (set of 2) $18.99 // 6. Cateracterum Palm (real) $25.65 // 7. Fringed Fabric Nadia Tote Basket $34.99 // 8. Black Hyacinth Amber Baskets $29.99-$49.99 // 9. Faux Fiddle-Leaf Fig Plant $129.99 // 10. Large Natural Rattan Farrah Utility Basket $49.99 // 11. Made in India Jute Storage Basket $14.99 // 12. Potted 60″ Cardon Cactus $299.00 // 13. Made in India Jute Storage Basket $7.99 // 14. Ceramic and Metal Planter $17.50 // 15. Large Storage Basket $34.99 // 16. Metal Watering Can $24.99 //
Just Click Your Heels… because there's no place like Home.